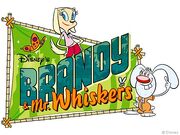 Brandy & Mr. Whiskers is an American animated television series about a dog named Brandy Harrington and a rabbit named Mr. Whiskers that get stuck in the Amazon Rainforest together when they fell out of a plane.
The series originally aired from August 21, 2004 to August 25, 2006. It was televised in the United States by Disney Channel and also aired on Toon Disney. While in the United Kingdom, it is broadcast on Disney Channel at 3:00am CST on weekdays. The series earned solid ratings and favorable reviews. It earned four Peabody award nominations and won an Emmy award.
Seasons
[
]
Season 1
[
]
The plot of the series is about a pamper dog named Brandy and a Rabbit name Mr. Whisker who, while on a plane to Flordia, are accidentally sucked outside from the plane and landed in the Amazon jungle. The main theme of the episode is Brandy's desperation to getting back to her home in Palm Beach, Florida. While at timesame time both she and Mr. Whiskers work together and build an unlikely but genuine friendship despite having a lot of differences, adapt by exploring the environment, and making friends with the native animals.
Season 2
[
]
In the second season, Brandy and Mr. Whiskers are getting used to the jungle, as they remodeled the Treehouse to be more home-like and the native animals also become more anthropomorphic as they have now established a new market economy in the Amazon.
Production
[
]
Production of the series' first season began in 2004 and ended in 2005, all 21 episodes concluded airing in 2005.
Production for the second season began in 2005 and ended in 2006. Season 2 would be the last season and production was stopped in 2005, and the remaining episodes aired from February to August 2006. The show got canceled for low ratings. Some season 2 episodes include a "Goodbye, Folks" kind of ending with Brandy & Mr. Whiskers, announcing that the series was coming to an end. The series aired in reruns from August 26, 2006 to June 21, 2010.